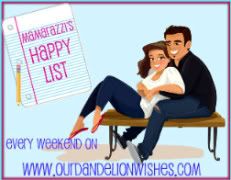 I have A LOT to be happy for this past week. First of All is my New Blog Design!!! I love it!!!!!! Thank you so much
Samantha's Day
. You did an awesome job! It was like having Christmas all over again.
And I have joined up with a new Blog Swap thanks to
Happiness is a journey for Janna
. I received my confirmation email today - this is going to be sooo much fun. I love swaps!
I actually have two giveaways going on at the same time! That is so exciting for me as I am newer to the giveaways and I am have having a ball. If you haven't already entered here they are again
Ricky & Lucy's Italian Seasoning
and
Purex Softener
Plus, I just found out my parents are coming out to spend Easter with us! Now the count down to Easter, How many more days???
What's on your Happy List? Link up today.