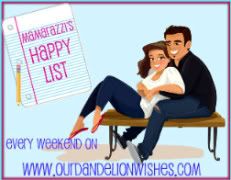 Well the main part of my Happy List this week is Thanks to my trip from Coffee-mate!

View from the airplane over the Rocky Mountains.

It was such an awesome trip and the weather was perfect. Check out the view from our room!
We wined and dined and enjoyed being a couple again. It is amazing how you sometimes can forget what it is like to be a couple again with out children in tow (but we couldn't wait to get home to their smiling faces).

Free Breakfast Buffet at the hotel.

I learned so much about Nestle Coffee-mate and how much they actually care about their consumers - what a great change of pace for a large cooperation.
Arrived home late Saturday to find an awesome box from
Granola Snacks
on my door step - need I say more about that.
Helped Dylan complete his 100th day of School shirt with 100 gummy candies (his idea). It turned out great so can't wait to send him to school wearing it on Wends.
And last but not least - My Gooseberry Cookbook arrived which features one my my recipes!!!
***Only complaint my "lovely" 2 month old HP computer is acting up again - so I am wondering if they company is going to want it shipped back once again for repairs :(