Well I finally decided to be Very daring and take my boys to the grocery store this past weekend - one crutch - bum knee and all. It was crazy but the boys were a huge help. I needed to re-stock so I could continue my Christmas baking.
I remember as a child my mom always making peanut clusters with the help of a crock pot. She would put them all away and bring them out on Christmas morning for everyone to enjoy. It was funny because we never could figure out for years where she stored them (not that we were looking and would have eaten them if we found them :). Our house was very small and as a child we thought we knew every corner and hiding spot. Come to find out - she kept the treasured peanut clusters in tins, under my dad's side of the bed.
Okay - now on to the recipe.....
But go figure after, I get home and plan on making one of our family holiday favorites - Peanut Clusters....I didn't pick up all the ingredients that I have always used. My heart was so set on making them - so I decided to see what I did have on hand and make something work.
Well making something work - now has changed my Crockpot Peanut Cluster Recipe forever. My new creation tastes Wonderful!
Ingredients:
2 - 20oz packages of Chocolate Flavored Almond Bark
8oz of Baker's German Chocolate
1 - 11.5oz bag of Semi-Sweet Nestle Toll House Morsels
1 - 11.5oz bag of Ghirardelli 60% Cacao Bittersweet Chocolate Chips (Dark Chocolate)
1 Tablespoon of Vanilla (I love La Vencedora Mexican Vanilla)
44 oz. of Dry Roasted Salted Peanuts
Preparation:
Place the Almond Bark and the German Chocolate in the bottom of the crock pot.
Place all the peanuts on top of the Almond Bark and German Chocolate.
Place the Semi-Sweet and 60% Cacao Bittersweet Chocolate chips on top of it all.
Add the vanilla and place the lid on top of the crockpot. Turn it on low and leave it for 3 hours.
Don't be tempted to stir it before the three hours are up. After the crockpot has been on for the 3 hours - turn it off for 20 minutes before taking the cover off of the crock pot.

Here is what you should see when you uncover the crock pot when it's time.
Stir the mixture up completely.

When all mixed - drop the
mixture by the tablespoon - or larger if you like - on Reynolds Wrap Parchment Paper (I like to use a 1/4 cup measure to drop my peanut clusters).
Let the peanut clusters set up for approximately 1 or 2 hours until firm. The peanut clusters have the perfect balance of salt and sweet from the combination of the semi-sweet and 60% Bittersweet Chocolate.
Enjoy!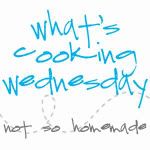 Check out the linky - I is from a great blog I just found and it features wonderful recipies. Hope you enjoy as much as I did.