I just love
http://www.shutterfly.com/
. They have the best selection in photo cards anywhere. This is my third year in a row using their services. And I would like to say I have never been disappointed. It is so easy to create your holiday cards and the price is right. I also ordered a cute magnet for our fridge and a cute mouse pad - I was able to add these items to get my order to $25.00, so I received free shipping. I actually got more for my money and free shipping to boot.
Here is the photo card I made this year for the holidays. What do you think? I love it and I was able to include our two fur friends also.
Merry Christmas Everyone!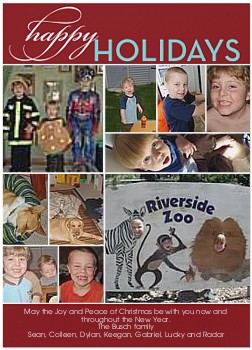 Family Story Christmas Card